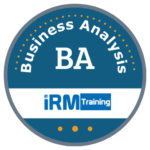 Program ID: E018-007 | PD Hours/CDU:28
Duration: 4 days | Instructor-Led | Course Fee: $2,450 + GST
---
Join the thousands of Australian professionals trained by IRM Training and master the fundamental skills of business analysis, through this flagship Business Analysis course.
Are you:
a

new business analyst

looking to learn a standard, systematic approach to business analysis?
an

experienced business analyst

who has learnt 'on the job', seeking to formalise your skills?
performing business analysis tasks in another

analytical or managerial role

and have been asking yourself, have you been following the best practice and is there a better way to do it?
Explore the hands-on approach to training where you will practice a variety of business analysis and modelling techniques through case-study-based exercises.
Gain the confidence, develop the skills and increase your productivity from day one. Find out why, for over 3 decades, hundreds of Australian top universities, corporations, government departments and not-for-profit organisations have been sending their staff to train with IRM Training.
IRM Training (est. 1989) is the longest serving Endorsed Education Provider (EEP™) to the IIBA® in Australia.
Course Outline
Introduction
Business Analysis
Projects
Business Analysis Need-to-Know Skills
The Process of Analysis
Requirements Elicitation
Current vs Future States
Agile Methodologies
Scrum
XP, Lean, Kanban, DSDM, Crystal
Non-Agile: Waterfall
Methodology Selection
User Stories
Use Cases
Writing Use Cases
Use Case Diagrams
Decision Tables and Specification
Business Improvement
System Theory, Value Chain Analysis, TQM
Lean, Six Sigma, BPR
BPM (Business Process Management)
Business Process Modelling Using BPMN v2.0
Event
Activity: Task, Sub-Process
Gateway
Artifact
Business Rules
Principles
Metadata
Common real world problems
Data
Event Table
Data Flow Diagram
Data Model
Entity Relationship
Business Intelligence / Business Analytics
Data Warehouse, Data Marts
Course Endorsement / Certification
This Business Analyst course conforms to the Business Analysis Body of Knowledge (BABOK®) v3 and is endorsed by the International Institute of Business Analysis (IIBA®). Upon completion of this course you will receive a Certificate of Completion, awarding you 28 CDU / Professional Development Hours (PD Hours).
For more information about PD Hours and certification in relation to this business analyst course, please refer to the Business Analyst Certification page.
What is the Training Like?
This
Business Analyst course
is a workshop-style practical training. Most modules start with a trainer running a presentation interactively, followed by discussions and case-study-based exercises.
In most exercises you will break out into smaller groups of 3-4 people, creating the opportunity to exchange ideas with other keen learners.
The course runs in a small group so there is plenty of opportunity to ask questions. For questions that are not directly related to the course topics, the trainer(s) may schedule a time during one of the breaks to answer them, to ensure your questions are answered while keeping the course on track.
In line with the working-from-home trend, you can now also attend this course remotely. The course will still be practical, hands-on, interactive and delivered live by a senior instructor with 15 – 25+ years' experience with the skills to make the intensive short course interesting and enjoyable.
Find out more about practical training delivered remotely (live).
Who Are the Trainers?
Eligibility requirements to become an IRM Training trainer:
A minimum of 15 years' business analysis experience

in Australia

.
The ability to demonstrate in-depth knowledge in the real-world application of the course topics.
Driven by the passion to help develop others.
Excellent communication, presentation and people skills.
A good sense of humour! You can absorb and retain more knowledge when the training is fun!
IRM Training trainers have worked in / with a diverse range of industries and government departments. Some also came from academic background as lecturers at Australian leading universities, on top of their 15+ years' hands-on experience.
Is This the Right Course for Me?
This course is suitable for various roles that perform business analysis tasks, including:
Business Analyst
Business Intelligence Analyst
Project / Program Manager
Project / Program Coordinator
Business System Analyst
Manager / Team Leader
Agile BA
Other / hybrid roles
The skills covered in this business analyst course are applicable in a wide range of industries, including:
IT
Finance
Public Sector (Government)
Education
Health
Energy
Retail
Manufacturing
Not-for-profit
Have questions? Contact Us
Course Objectives
To provide practical training in business analysis techniques which can be used for:
Communicating unambiguously between Business and IT stakeholders
Articulating and selecting business improvement methodologies
Identifying an appropriate project execution approach
Creating and communicating Organisation Change Management plan
Developing a

current state

to

future state

approach
Mapping process activities using BPMN v2.0
Creating and articulating a data model
Creating Use Case descriptions
Learning Outcomes
Using a variety of practical exercises and case study problems, you will learn:
how organisations use projects to achieve business objectives and what role business analysts play in successful project outcomes
how to document requirements using Event Tables
how to model business processes using BPMN v2.0
when and how to build Data Models from business rules
how to draw Data Flow Diagrams and understand the rules on which all notations are based
how to apply hierarchies to Use Case and Activity Diagrams
how to model the current system and how to define possible components of a physical model
how to write User Stories
how to use different system viewpoints when moving from a

current

(as-is) to a

future

(to-be) state
how to identify and manage business rules
how to model new requirements and separate business requirements from technology
What Past Attendees Said
"
Great exposure to multiple techniques for modelling and analysis
" – Business Analyst,
ANZ Bank, Melbourne
"Excellent course for business users to understand communications with IT specialists" – Head of Management Reporting, Bank South Pacific
"Course has been invaluable – will improve the information and specifications I provide to our IS team" – Business Analyst, Australian Maritime Safety Authority
"Provided me with the fundamentals and tools to start my ba journey" – Project Analyst, Airservices Australia
"A practical hands on approach to the thinking processes behind business analysis" – Project Controls, Abigroup Contractors
"Excellent course, good ideas about how industry standard techniques can be applied in the workplace" – Process Modeller, Geoscience Australia
"Very good in opening my thoughts – my blinkers are off" – Enterprise Analyst, VicRoads
"Good course, pulls in all the threads nicely" – ICT Project Manager, Department of Defence
"Practical, good reference to the core tools, logic, techniques and principals of analysis" – Business Analyst, Zurich Insurance
"Has given me a good overall knowledge of how to perform my job easier" – Business Analyst, Department of Human Services
COURSE DATES & BOOKINGS

| Location | Date | |
| --- | --- | --- |
| Anywhere - Remote Delivery | 27 February - 1 March 2024 | |
| Your Office - In Person | Flexible Dates & Hours | |
| Group Booking - Remote Delivery | Flexible Dates & Hours | |
| Adelaide | Select one of the options above | |
| Brisbane | Select one of the options above | |
| Canberra | Select one of the options above | |
| Melbourne | Select one of the options above | |
| Perth | Select one of the options above | |
| Sydney | Select one of the options above | |
Your invoice will be emailed to your payment contact shortly after you submit your booking.
Payment is due 12 business days prior to the course start date, or immediately if booking is made within this time frame.
Course hours during daylight saving time (from 1 October 2023):

AEDT: 9:00am – 5:00pm (ACT, NSW, TAS, VIC)
ACDT: 8:30am – 4:30pm (SA)
AEST: 8:00am – 4:00pm (QLD)
ACST: 7:30am – 3:30pm (NT)
AWST: 6:00am – 2:00pm (WA)

Course hours during standard time: 9:00am – 5:00pm AEST.

For other locations or time zones, Convert to your time zone.
---
We train professionals from these Australian organisations and more: