Many business analysts and business users get frustrated at the perceived lack of information in a use case diagram. "It's all very well drawing a picture" they say but what about the details – what's actually going on?
When producing project documentation, use case diagrams are rarely used on their own. They will generally be accompanied by a textual use case and if they're complex, may also have a supporting activity diagram to show what's going on "inside" the use case.
To keep things simple we'll stick to use case diagrams and textual use cases. Textual use cases can be both formal and informal. Try the following exercises (from IRM's Modelling Requirements with Use Case & the UML workshop) to test your skills. First we'll draw a use case diagram from a plain English description, then build on it using textual use cases.
Exercise 1 – Course registration
The following should be textually analysed and a use case diagram created containing several use cases. Identify the actors, use cases and associations.
At the start of each semester a student can request a prospectus containing a course list. Information about a course is provided, such as the tutor, department and pre-requisites.
The new system will allow students to create a schedule, then select four courses. Each student chooses two others in case their first choices become full or are cancelled. No course can have more than 10 students. No course can have less than 3 students or it will be cancelled. This will be the same functionality as available to other internal users of the system.
When registration is complete, the registration system sends a message to the billing system to send out a bill to the student.
Tutors use the system to find which classes they are teaching and who the students are. The registrar will administer the system.
For a period at the beginning of the semester the student can change their schedule. Students must be allowed to access the system during this time to add or delete courses.
Note: If you have some experience with use cases try drawing a suitable diagram. If you're new to the field, see below for an example answer.
Exercise 1 – Example answer
Actors: Student, Tutor, Billing System, Registrar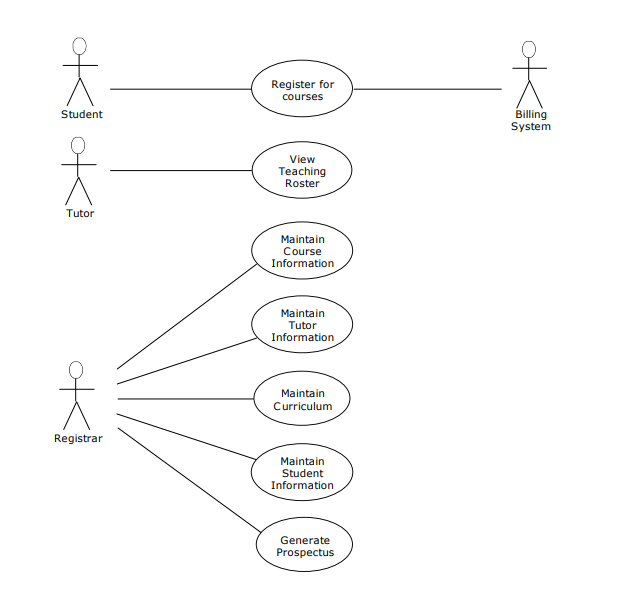 Use Cases:
Student
Tutor
Registrar
Maintain course information
Maintain student information
Maintain tutor information
Maintain curriculum
Generate prospectus
For the rest of the exercises and PDF, download full paper here: How to use Use Cases
---
If you liked this paper, you may enjoy:
What Happens After User Stories?
---