IIBA®'s salary survey has recently become available to members and today we're sharing some of its most valuable insights on the business analyst role in 2018 and what to expect in 2019 and beyond.
The majority of Australian business analysts have less than one year experience, with the second largest group having 3-5 years experience.
Future career paths for business analysts include:
Consultant
Management
Data Analytics
Business Architecture
Product Owner
Project Manager
Product Manager
In terms of salary, IIBA® recorded a median weekly pay of around $2,300. On average business analysts expected a salary increase of 3.3% each year.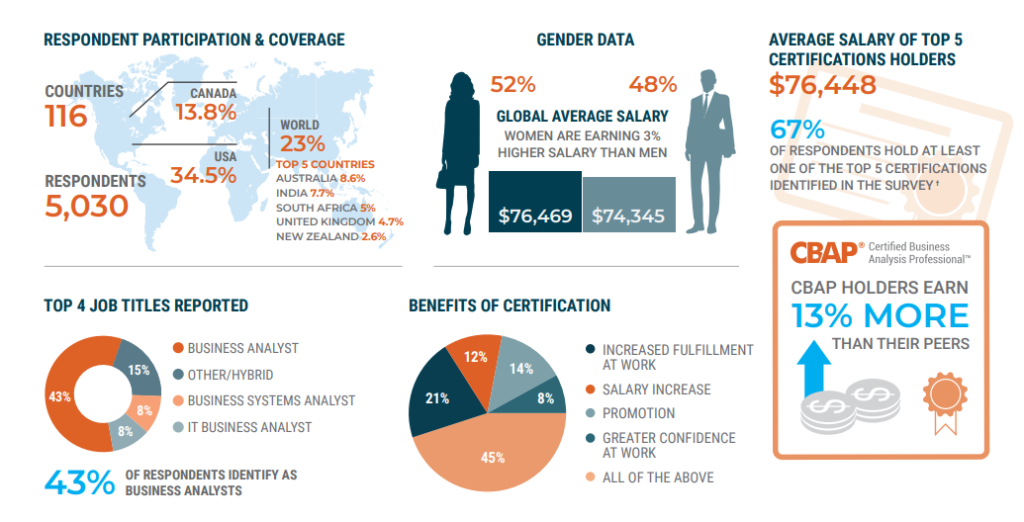 Full infographic available to non-members from IIBA®
Good News for Business Analysts
The Australian website SEEK has posted data they've collected which indicates that job ads are up 8.6% over the past 12 months which is great news for Australian job seekers, especially business analysts.
This is because jobs in ICT scored the second highest rate of job ad growth as measured by SEEK in 2018. Overall, across the country ICT jobs ads were up 12% over the year before.
In addition, the Australian government's site Job Outlook has recorded strong future growth for ICT Business and Systems Analysts in the already 23,800 strong profession.
In-Demand Skills for Business Analysts
SEEK representative Kendra Banks commented that 'we see increase demand for highly skilled, technology roles advertised across the ICT classification.'
According to IIBA®, the vast majority of managers (67%) already invest in skills training for their employees to help with career progression. The most valuable skills sets identified by the survey include:
At 72%, Australia came in as one of the highest practising Agile methodologies, making Agile business analysts in keen demand. Of twelve Agile methodologies practised, the top three are Scrum (83%), Lean/Kanban (25%) and Scaled Agile (21%).
Finally, Australia is a great place to be for career progression as most organisations have 2-3 levels of business analysts allowing for promotions.
Overall, this year's survey has shown it's a great time to be a business analyst in this growing and dynamic career.