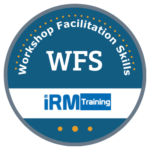 Program ID: E47903-009 | PD Hours/CDU:14
Duration: 2 days | Instructor-Led | Course Fee: $1,480 + GST
---
Step into your next workshop with a new level of confidence, by equipping yourself with the techniques to facilitate successful and productive workshops, through this Workshop Facilitation Skills course.
Workshops can be extremely efficient and valuable in a wide range of business activities, while at the same time promote collaboration and team building. However, when not planned or executed properly, it can instead be a costly exercise that ends with issues and delays in your project, decision making or problem solving.
As a facilitator, the success and failure of a workshop is often attributed directly to you.
Be recognised by your peers as a skilled facilitator by learning and practicing the techniques to:
Control the focus and pace of your workshops
Handle biases
Allow / ensure everyone contributes
Deal with difficult personalities, hidden agenda and other "people problems".
Australian top universities, organisations and government departments send their staff to this hands-on Workshop Facilitation Skills course to practice new techniques, in realistic scenarios, in an environment where it is safe (and even encouraged) to make mistakes and learn from them.
IRM Training (est. 1989) is the longest serving Endorsed Education Provider (EEP™) to the IIBA® in Australia.
Course Outline
Overview
Workshops vs Meetings
The facilitator's role & objectives
Top 3 Components: Planning, Planning and Planning
Define the scope
Know your audience
Prepare the logistics and practicalities
Define the objectives and desired outcomes
At the Workshop
Facilitator's styles – choose yours!
Biases to beware of
Rules & guidelines
Technology & tools to keep in your pocket
Useful techniques that can save the day
Control the flow
End with a bang!
It's All About the People Skills
Verbal & non-verbal skills
Understanding the group dynamics
The art of active listening
Get more with open questions
Keys to dealing with:

Dominant people
Shy people
Business people
Technical people
Dysfunctional behaviour
Conflicts

Intervention strategies and their risks
After the Workshop
Post-workshop deliverables
Participant follow up
Verifying agreed issues – making sure they get done
Managing unresolved issues
Virtual Workshops
Approaches
Technology
Best practices
Facilitation Tools
The facilitator's toolkit
Where to find help and additional resources
What is the Training Like?
Most modules start with an instructor running a presentation interactively, followed by discussions and practical exercises.
For most exercises you will break out into small groups of 3-4 people, where you can practice your workshop facilitation techniques and skills in a positive, constructive and non-judgmental environment. You will practice in front of real people and be coached by an instructor with real-world experience!
Do you have an upcoming workshop you are preparing for? Use your own workshop criteria in the exercises, to gain more personalised benefits! Otherwise, we also provide a realistic case study that simulates a series of workshops in a project. We can offer this flexibility thanks to the small group size and the unique skills of our course instructors.
In line with the working-from-home trend, you can now also attend this course remotely. The course will still be practical, hands-on, interactive and delivered live by a senior instructor with 15 – 25+ years' experience with the skills to make the intensive short course interesting and enjoyable. Find out more about practical training delivered remotely (live).
Who Are the Trainers?
Eligibility requirements to become an IRM Training trainer:
A minimum of 15 years' relevant experience in Australia.
The ability to demonstrate in-depth knowledge in the real-world application of the course topics.
Driven by the passion to help develop others.
Excellent communication, presentation and people skills.
A good sense of humour! You can absorb and retain more knowledge when the training is fun!
IRM Training trainers have worked in / with a diverse range of industries and government departments. Some also came from academic background as lecturers at Australian leading universities, on top of their 15+ years' hands-on experience.
Is This the Right Course for You?
This course is designed for
Business Analysts
,
Managers
,
Team Leaders
,
Project Manager
/
Lead
/
Adviser
and other similar roles who are tasked with facilitating workshops.
The most common types of workshop that the course participants facilitate are:
Decision Making
Requirements Elicitation
Problem Solving
Incident Postmortem
Risk Analysis
Project Planning
OKR (Objective Key Results) Workshop
PI (Program Increment) Planning
Product Backlog Refinement and Planning
Iteration Planning
Facilitating workshops generally requires higher level of skills compared to meetings or presentations. As such, a good workshop facilitator is almost always also as good, if not better, when facilitating / running meetings, training or presentations.
Learning Outcomes
We add value to you and your organisation by giving you practical skills to:
Define the business objectives for a workshop
Know when and how to use workshops
Plan and facilitate a workshop
Use a range of facilitation techniques
Manage group dynamics and personalities
Implement post-workshop actions
The techniques in this course are applicable to a wide range of scenarios.
Many of what you learn here will also be useful for running meetings and presentations, as workshops generally require higher level of skills to facilitate.
Course Endorsement / Certification
This Workshop Facilitation Skills course conforms to the Business Analysis Body of Knowledge (BABOK®) v3 and is endorsed by the International Institute of Business Analysis (IIBA®). Upon completion of this course you will receive a Certificate of Completion, awarding you 14 CDU / Professional Development Hours (PD Hours).
For more information about PD Hours and certification, refer to our Business Analyst Certification page.
What Past Attendees Said
"Informative, practical and well run" – Business Analyst, ANZ Bank
"Very well conducted and run course. A lot of knowledge and skill was passed on to the class" – Business Analyst, Department of Veteran's Affairs
"Excellent pointers for planning and structuring a workshop" – Business Analyst, Allianz
COURSE DATES & BOOKINGS
| Location | Date | |
| --- | --- | --- |
| Anywhere - Remote Delivery | 14 - 15 December 2023 | |
| Anywhere - Remote Delivery | 5 - 6 March 2024 | |
| Your Office - In Person | Flexible Dates & Hours | |
| Group Booking - Remote Delivery | Flexible Dates & Hours | |
| Adelaide | Select one of the options above | |
| Brisbane | Select one of the options above | |
| Canberra | Select one of the options above | |
| Perth | Select one of the options above | |
Your invoice will be emailed to your payment contact shortly after you submit your booking.
Payment is due 12 business days prior to the course start date, or immediately if booking is made within this time frame.
Course hours during daylight saving time (from 1 October 2023):

AEDT: 9:00am – 5:00pm (ACT, NSW, TAS, VIC)
ACDT: 8:30am – 4:30pm (SA)
AEST: 8:00am – 4:00pm (QLD)
ACST: 7:30am – 3:30pm (NT)
AWST: 6:00am – 2:00pm (WA)

Course hours during standard time: 9:00am – 5:00pm AEST.

For other locations or time zones, Convert to your time zone.
---
We train professionals from these Australian organisations and more: