Agile Training Courses
IRM Training's SAFe® Agile Training is delivered in partnership with Scaled Agile Inc. and the courses are designed to deliver the best learning outcomes for our attendees Australia-wide. IRM Training run Agile courses in Sydney, Melbourne, Canberra and Brisbane with in-house training and group bookings available in almost every Australian city.
What is SAFe®?
The Scaled Agile Framework (SAFe®) helps businesses address the significant challenges of developing and delivering enterprise-class software and systems in the shortest sustainable lead time. It is a freely revealed, online knowledge base of proven success patterns, for people building the world's most important software and systems.
SAFe® synchronises alignment, collaboration, and delivery for multiple Agile teams. Scalable and configurable, SAFe® allows each organisation to adapt it to its own business needs. It supports smaller-scale solutions employing 50 – 125 practitioners, as well as complex systems that require thousands of people.
Find out more about SAFe® on the SAFe® website.
Our Agile Courses:
Below are all of IRM's short courses for Agile training, available for group bookings or in-house training.
Agile Courses
More Course Information
Click the below tabs to read more about our Agile training
Agile Certification
All of our Agile courses include the exam fee and on completion attendees receive a certification as SAFe® 5 Scrum Master, SAFe® 5 Agilist, Scaled Agile Framework (SAFe® 5) Practitioner or SAFe® 5 Product Owner/Product Manager.
Additionally, attendees may be eligible to apply for 15 PDUs toward their continuing education requirements with the Project Management Institute (PMI) for PMP, PgMP, and PMI-ACP certifications.
Attendees may also be eligible to apply for SEUs under Category C, toward earning or renewing their CSP through Scrum Alliance.
Scaled Agile Implementation Roadmap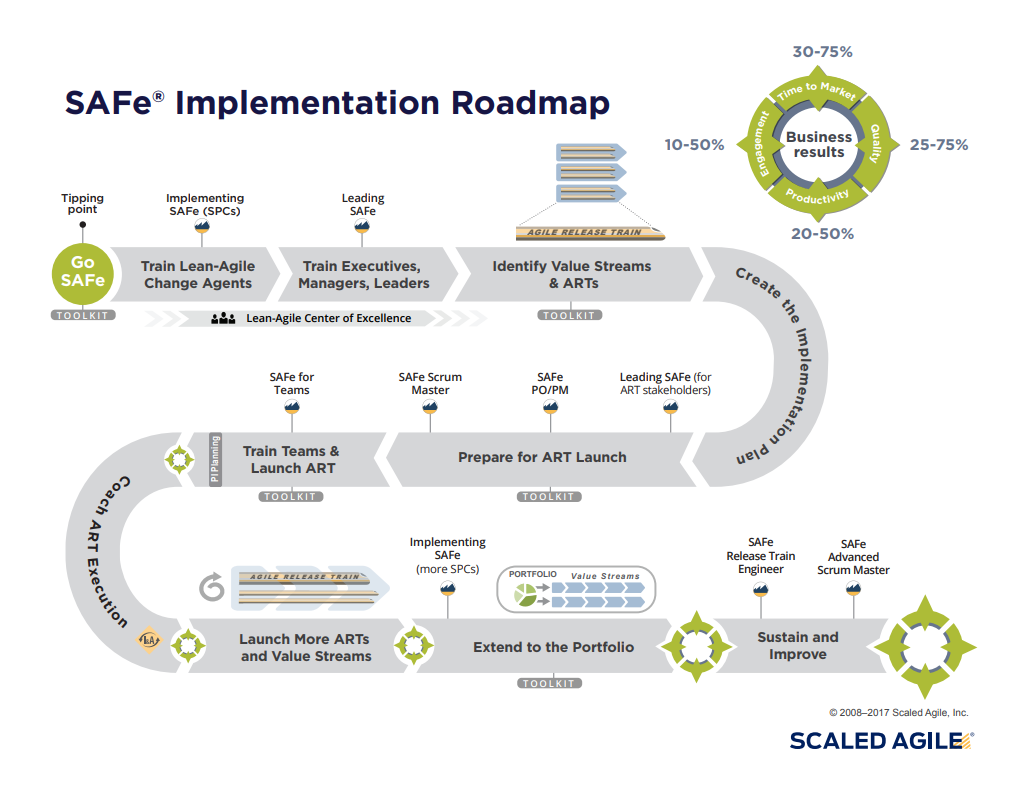 Testimonials
Testimonials for IRM Training:
"Was very well run, engaging and good for all levels of knowledge." – Australian Electoral Commission
"The trainer is fantastic at keeping the group engaged, providing examples and providing different ways to explain things so everyone understands." – Department of Immigration and Border Protection
"Breadth of topics was really good, a lot to take in but the trainer was always helpful, is very knowledgeable & provides insights from his vast experience." – Cricket Australia
"Great learning structure, you do not get overloaded in a day. Well paced and useful information. Information applies to my role & where I want to head towards." – Department of Education and Training
"Interesting course made more enjoyable due to the instructor's knowledge & engagement with attendees." – IP Australia
"The instructor was able to customise on the go to suit our needs. Fantastic!" – Simply Energy
FAQ
Where do you train?
Just about anywhere! Sydney, Melbourne, Canberra and Brisbane are the main centres for our public courses. We'll run in-house courses anywhere in Australia, and overseas.
What's different about instructor-led workshops?
"Learn by doing" has long been recognised as the most effective way of teaching skills and techniques. The more complex the skills, the more effective instructor-led workshops become compared to self-paced, self-learning or lecture style teaching.
Some of our previous clients: