IRM Training has recently conducted research and what we found was that 58% of Business Analysts use interviews as one of their primary methods of elicitation, or, gathering requirements. The real time and direct interactions can make interviews very effective for extracting information, providing that you know how to ask the right questions.
When done well, an interview can be used to clarify any ambiguity as well as verifying facts of business background research. It gives a great opportunity to extract rich and detailed information from key stakeholders.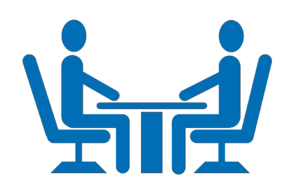 A successful interview is often the result of the experience of the interviewer and their ability to pick up on requirements which are not initially obvious. This is a skill that can be improved with some coaching and a lot of practice.
When conducting interviews remember:
Interviewing for requirements can be either a formal or informal occasion but the end goal should be the same.
Ask:

open ended questions to find gaps in your information, and
close ended questions to confirm your findings.

Do background research prior to the interview to contextualise the interviewee's responses and save time.
Diligence at this phase of the project can save huge expenses in reworking later on.
If you want to improve on your interviewing techniques… practise is everything. Come along to our workshop or start holding interviews more often in your work environment. There is a reason it is one of the most common forms of elicitation.
We cover interview techniques with practical role playing in our 3-day workshop Business Requirements Elicitation.
---
If you enjoyed this article, you may also like:
What Are Good Business Analysis Questions?